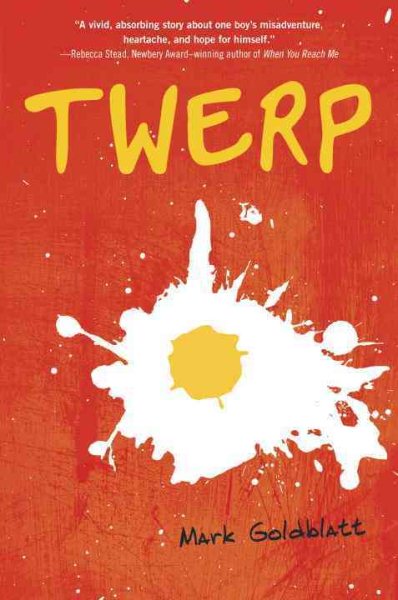 At first, Mark Goldblatt's Twerp brought to mind a couple other books – Scrawl, a bully's detention-assigned journal about his life and Ungifted, Gordon Korman's hilarious story about a likeable kid whose bad judgment gets him in to trouble again and again.  But it didn't take long to get completely lost in this well-written, engaging story about a 12 year old kid, his friends, and a terrible thing they did.
Julian Twerski isn't a bully.  He  didn't mean for Danley to get hurt and he doesn't think that what happened over winter recess is one hundred percent his fault, although he doesn't deny that he had a part in it.  So he has to spend the spring semester writing something "long" and in exchange, he can forgo the Shakespeare writing assignment in sixth grade English.   Over the course of the next five months, Julian fills up 9 composition books, chronicling the ups and downs of sixth grade: hanging out with his best friend Lonnie and the other guys in the abdoned lot they call Ponzini; the disaterous outcome of agreeing to write a "secret admirerer" love letter to the prettiest girl in school for Lonnie; and fearing losing his standing as the fastest kid at P.S.23; while the real story remains hidden in the background, seeping in at the edges of Julian's narrative, coloring his choices and tugging at his burgeoning moral compass.
Without realizing it, the writing assignment helps Julian realize some fundamental things: "That kind of stuff always seems clearer looking back. But how can you look back while the thing's happening? You can't.  It's like you're on a ride, except it's your life.  You can't call timeout, think it over, and then get back on the ride." (261)  "That's what it means to be a man. You do what you think is right, regardless of who it hurts, and whether it works out, because in the end you have to live with yourself." (188)  "Knowing the truth frees you up.  Or at least it frees you up if you accept it." (189)  All important lessons for a kid to learn as he grows out of childhood and into young adulthood and they're all the more powerful because Julian is able to discover them by thinking about his own actions and decisions, rather than simply having them "told" to him by some "wise" adult.
Goldblatt's skill as a writer shines in Twerp: his characters feel like real people, flaws and all; the neighborhood where Julian lives could be the one you grew up in (or are living in now); the choices Julian makes and the repercussions are authentic and his emotional reactions to them resonate throughout; and there's a sense of timeless truth about the story that doesn't keep it set in Spring 1969 – you know this has happened and will happen to kids anytime and anywhere.