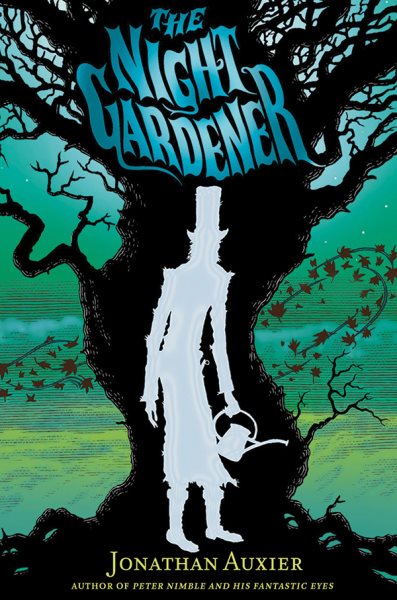 Separated from their parents while at sea, fourteen-year-old Molly McConnachie, an Irish immigrant escaping the famine in County Donegal, Ireland, has found herself in Cellar Hollow with her ten-year-old brother, Kip.  Along with their horse Galileo—who is as loyal as he is stubborn—the children make their way to Windsor Estate, where Molly has a job, but folks along the route warn them against the sourwoods.  Hester Kettle, a storyteller who plays the hurdy gurdy, is vehement about the foreboding that awaits: "They say the sourwoods changes folks. . . brings out somethin' horrible in 'em" (10).  Convinced this is all frightening nonsense, she and Kip, with his crutch called Courage, take up residence where tragedy and transformation await.
Not long into their stay, the two encounter the night man, a mysterious gardener with a watering can who tends to an unusual tree, a tree that seems alive but whose survival depends on the humans inhabiting the house.  Curious about what mystery resides behind the locked green "closet" door, Molly discovers that the tree grants what one deeply desires.  These gifts, though, come at a cost—the tree expects payment in human sweat, tears, and energy.  The tree grants wishes, but not in a way that makes things better.  Still, without the gifts of the tree, the beneficiaries would be completely unmoored.
 Too late, Molly realizes that in desperation, we often trade one evil for another.  Entrusted with the care of her brother, Molly uses stories to soothe him, but she wonders whether the stories are just lies and cover-ups since a storyteller invites people to believe the impossible.  As the stories begin to unravel, they are forced to flee.  In the process, Molly learns the hard lesson about the difference between wanting and needing. 
With The Night Gardener, Jonathan Auxier tells a ghost story with both horror and humor.