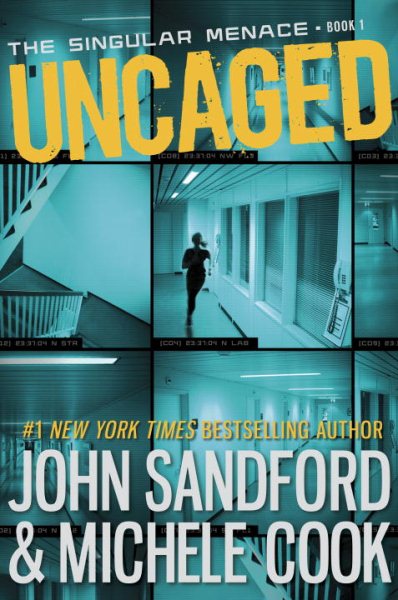 Any reader who seeks out books with thrills, chills, high stakes, and a fast pace should grab Uncaged when it releases next month!  The first in a series called The Singular Menace by John Sandford and Michele Cook, Uncaged features two teens, Shay and Odin Remby, both in the foster care system after losing their parents.
For his computer skills, Odin has been recruited by the Animal Rights Group STORM.  Hoping to sabotage their experiments and rescue the caged animals, the group raids a Singular Lab in Eugene, Oregon, a medical company doing Parkinson's research.  What they discover, however, is shocking.  Singular appears to be doing research not only on rats, monkeys, and dogs but also on humans!    Their top secret program is experimenting with robotics, neural nets, nerve regrowth, and biomechanical links.  But they need living humans to test for compatibility of prosthetic and bionic limbs.  Fearing exposure that they're killing people in the name of science, Singular fights back, forcing STORM on the run.  Odin escapes with encrypted thumb drives and a test-subject–a dog he calls X, but his freedom is temporary.
Odin, almost 18, is mildly autistic, so when Shay receives a cryptic text message from him, she is alarmed.  Since "Odin had never been good at social relationships, at understanding ordinary human traits like treachery, jealousy, and deceit" (59), if he was in some kind of trouble, Shay didn't think he would get out on his own.
On the hunt for her brother, Shay ends up in California at Twist Hotel, a shelter for homeless youth, operated by Twist, a wealthy and eccentric artist who is also a social activist interested in the immigrant campaign and publicity stunts like those achieved by graffiti artist Banksy.  As compassionate as he is controversial, subversive, and irreverent, Twist uses his art for political and social commentary.  Here, she also meets Cade Holt, another teen computer wizard who solves a major mystery: Singular is trying to get to the Singularity, to achieve a merger of men and machines, to build an artificial man with the brain of a real, living person. 
The book invites ethical questions about which group to call radicals—the raiders and their sabotage activities or the scientists using humans as lab rats?  Should science be able to give disabled people around the world, whether soldiers wounded in war or individuals born with birth defects, their mobility back, using nerve-splicing?  If people die in the experimental process, does the end justify the means? 
From its first to its final chapter, the book is action-packed and suspense-loaded as it takes readers on a harrowing journey of combat between ruthless corporations, social activists, and street-savvy teens.  The title with its multiple meanings also provokes questions: What happens when recklessness is powered by unchecked greed or when the darker side of human nature is unleashed or when the desire for revenge is uncaged? 
Much like that of the Hunger Games, this book's ending will leave readers craving the next installment in the series.