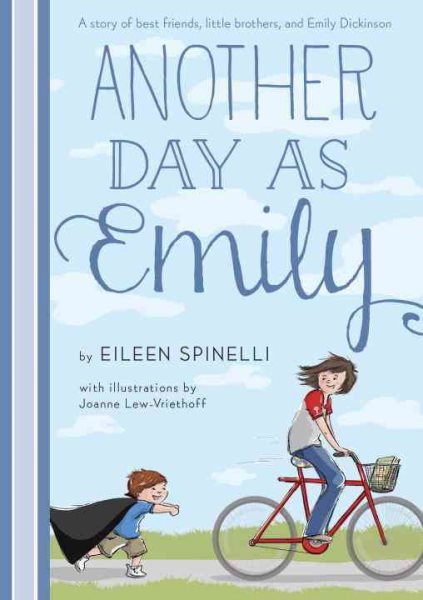 Another Day as Emily – Eileen Spinelli
Have you ever been so tired of life that you decided to change who you were? Eleven-year-old Suzy has.  After her brother becomes a "Little Hero" around town, and her best friend gets wrapped up in her acting pursuits, Suzy is all but forgotten.  She determines to live her life in a new way – Emily Dickinson's way. Amidst white dresses, letters, baking, and cleaning Suzy learns who she really is in Spinelli's new novel.
Written in verse, it is a very easy, quick read, but one that teaches as it goes. Historical facts and figures abound, engaging curious minds to learn more.  Another Day as Emily will certainly be enjoyed by  upper elementary and middle grade age students.
Catch a Falling Star by Kim Culbertson
Carter Moon is not a hobbit. If you ask her dad, best guy friend, best girl friend, or mom, they might say differently, but Carter just likes Little.
Little, California is her perfect hometown: small, beautiful, and full of stars at night. However, this summer it's going to have stars during the daytime too. Teenage movie star Adam Jakes is coming to town to film his new Christmas movie – in July.  Carter has never been one to idolize Hollywood, but she soon gets an offer that changes everything. Now she must balance hanging out with a major star in the day, and stargazing at night trying to find answers in the constellations.
Catch a Falling Star is a perfect summer read for teen readers (grades 8 and up). It gives hope and understanding as it shares the struggles of life: addiction, love, family, growing up, learning from the past, and friendship.
Welcome to Dog Beach – Lisa Greenwald
Remy has grown up visiting Seagate Island for the summer. Each year for as long as she can remember summer meant Seagate, Grandma, beaches, and Danish, Grandma's dog.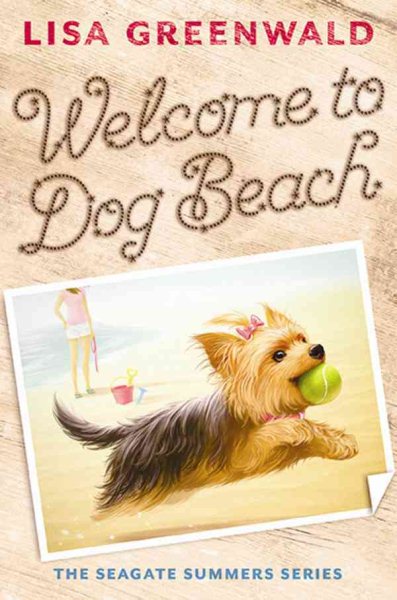 When Grandma passed away, Remy and her parents inherited the summerhouse on Seagate and Danish. Now Danish is gone too, and Seagate doesn't feel the same. No one is ever sad on Seagate, but Remy can't shake the feeling of loss. Plus, her best friends are "growing up" and talking about what they want to do with their lives, Remy can't understand why eleven-year-olds need to talk about careers! That is until she starts a summer job that could change her life forever- dog watching. Remy's easy bong with dogs helps fill her emptiness and gives her time to figure out what "growing up" really means.
Lisa Greenwald's novel for middle grade readers, Welcome to Dog Beach, is perfect for the dog-lover in your life.  The feelings of a young girl who misses her pet and easily relatable, as is the struggle of change in life. Take Welcome to Dog Beach to the beach this summer and be transported to Seagate.